In a society where processed foods are the norm, it can be difficult to know what is healthy. One of those items that people often question is granola. Many think that because it's sweet, it must not be good for them. However, this couldn't be farther from the truth! There are plenty of delicious and nutritious granolas out there just waiting to become your new favorite breakfast or snack! But with so many options on the market today how do you know which one to choose? Here are some tips for picking out a healthy granola.
Wherever you are, enjoy convenient healthy snacking in exciting flavours, all perfectly proportioned for you to do more. With Amazin' Minis, snacking is no longer ordinary.
Crunchy and delicious granola packed to the brim with superfoods, freshly baked with 100% natural ingredients – perfect for a nutritious breakfast or a healthy snack.
Occasions to enjoy Amazin' Minis
1) Convenience in perfect portions. Now you can be healthy anywhere you go.
2) Perfect for you or your family anytime, whether it's during a class break or for a nourishing office snack.
3) Perfect for a daily pick-me-up or a guilt-free midday snacking.
Comes in:
Bundle of 5 Amazin Minis for 1 week of easy snacking
Bundle of 10 Amazin Minis to share with your family or colleagues
Granola/ Nuts Variety Boxes as a gift of health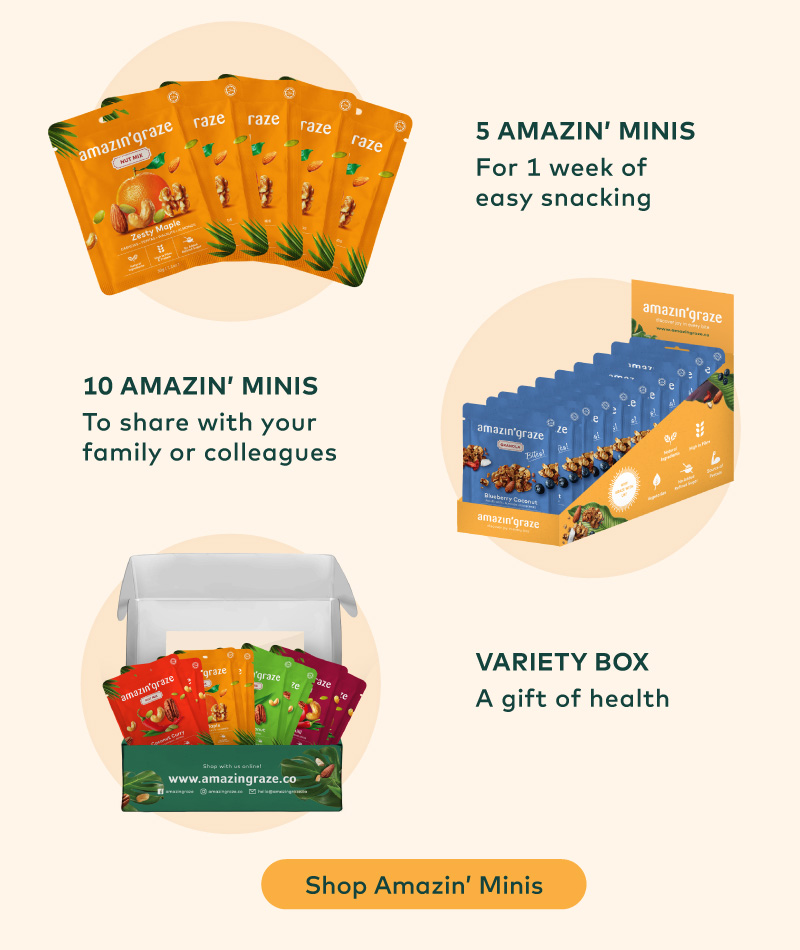 Available in 4 flavours each for Granola Bites (40g) and Nut Mix (30g):
Blueberry Coconut Granola Bites
Chocolate Hazelnut Granola Bites
Banana Bread Granola Bites
Coconut Kaya Granola Bites
Coconut Curry Nut Mix
Pandan Coconut Nut Mix
Zesty Maple Nut Mix
Sweet Chilli Nut Mix
10% off Bundle of 10 Amazin Minis
12% off Starter bundle (Granola Variety Box + Nuts Variety Box)